Best Job Management Software For Electricians 2021
Best Job Management Software For Electricians 2021
If you are an electrician/electrical contractor, then it's likely that you have multiple jobs on the go at the same time
Keeping track of these jobs can turn into a bit of a nightmare when you are busy on the tools, robbing you of your evenings and time with your family.
We have done a bit of a "round up" to answer the question, what is the Best Job Management Software For Electricians in 2021?
Don't underestimate how much time one of these pieces of software will give you back. Even if you don't think you have been getting overwhelmed with quotes & invoicing, the end result to the customer is a huge increase in customer service.
And don't forget, despite what everyone else is telling you, people out there WILL PAY for a quality service that stands out above the rest. This type of software can help you do just that….
Which Platform & How Many Users?
The first thing you need to do before selecting any job management software is to know what platform you need the software to work on, and how many end users will be using it.
Don't forget that end users is split between both staff on the tools and any admin staff or VA in an office.
Unfortunately there are a couple of different software choices which ARE NOT available across every platform.
I found this really frustrating as I felt it narrowed my options. In the end, I actually swapped to a iPad mini (despite having Android phones and tablets for certification software!) for this, although I won't spoil the review!
Pretty much every piece of software has a web interface which can be accessed by browser on a computer.
The issue comes with mobile apps, which is where this type of software really comes into it's own – not having the software available to you mobile will not be using it to it's fullest potential.
Without further ado, let's have a look at the main options available and I'll list the pros and cons of each system as best I can.
Tradify
Tradify is a multi platform job management software designed for the trade industries specifically.
It readily lends itself to using as job management software for electricians and has been updated constantly with new features into 2021.
The tag line of the tradify team is "Giving Tradies Their Evenings Back"!
There is a web interface and both Android & iOS apps available for mobile devices.
This software can handle quotes, invoicing, scheduling (including multiple team members), job management, signature capture and more.
Tradify works on a "per user" pricing model, at £19 per user, per month.
This is low cost if you are a sole trader, however growing companies will end up paying quite a bit once they have a few electricians & admin staff on the system.
Although integrations are available for popular accounting software packages (notably XERO & Quickbooks), there is no advanced integrations with Zapier or any similar API.
Whilst this may seem irrelevant to some, it can be a really useful way to up the customer service bar by connecting different softwares together with no programming knowledge required!
I'll explain the benefits further down, but this for me, together with the per-user pricing was a put off for this particular job management software I'm afraid
I do have a few friends who use this software in their electrical businesses and they are happy with it. Tradify offer a free 14 day trial (no credit card required) so if you are in the market it could be worth a try.
Jobber
Jobber is another highly capable job management software for electricians in 2021.
Another multi platform software, it comprises the usual web platform together with both Android & iOS apps available for mobile devices.
I have trialled this software and was really impressed with the android app. It was well designed, easy to navigate and responsive.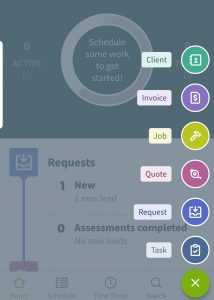 Jobber has a more thorough integrations set than Tradify. Again there are native integrations for popular accounting software packages, but Jobber also supports Zapier integration.
This enables a huge list of automations to be completed easily & without any programming knowledge.
Again this software uses the pay per-user pricing structure. It is however significantly more expensive than Tradify at £30 per user, per month.
If you are a small business or sole trader then it might not be a huge problem, but running multiple electricians and admin staff is going to get very expensive on this platform.
Whilst I was impressed with the software, particularly the app itself, I'm not sure the extra features over Tradify warrant the huge extra price tag?
I do know of one small business user of this app (3 staff in total) and he is very pleased with it. Jobber are another job management software who offer a 14 day free trial of their software so if the price doesn't put you off, it's definitely worth a look.
Service M8
Service M8 is an excellent piece of job management software for electricians.
Unfortunately this is one of the "iOS only" apps, although the web interface version will run on any computer browser.
Unless you are running the mobile app though, this software is not worth using so I'm afraid it's iOS or nothing.
Service M8 have addressed this issue and have no plans to release an android version of the app. They are Apple partners and develop purely on that platform.
If you are using iOS, then this software is an enterprise level piece of job management software at a really reasonable price.
Instead of the "per-user" payment structure, Service M8 works on the nunber of jobs you complete in a month. This can work our significantly cheaper with multiple users and also ensures that you are only moving up the pay scale when paying work in coming in!
The feature list is extensive, but some of the cooler features include SMS text messaging quotes & invoicing, online acceptance of quotes, ability to record videos and store them against job cards and also GPS tracking of engineers to the customer property.
The GPS tracking feature is a bit of a gimmick really, but it texts the customer with an ETA in minutes when you set off from previous job. The customer can then click a link to see your progress on a map, similar to many delivery companies.
Whilst it may be gimmicky, how many of your local competitors are doing this? This level of customer service can really set you head and heals above your competitors when dealing with local customers.
Service M8 again has a fully featured integrations package including accounting software and Zapier support.
One final feature which we really like about Service M8 is that they have a wide network of specialists who can help you to set the software up and get the best from it.
Whilst the specialists do charge for their services, this leaves you with plenty of options for a "done for you" service to fitting this into your business.
We found a lot of online communities and facebook groups dedicated to Service M8, again helping you to get the best from the software.
I have many friends and colleagues who run their businesses on Service M8. The software isn't perfect, but for the price is a really good offering that suits any sized business.
SIMPRO
SIMPRO is an enterprise level piece of job management software, but unfortunately there is not much information available online about it.
Their website is pretty devoid of in depth details or any pricing, instead they want you to speak to a salesperson for a demonstration.
There is no free trial and as such it's difficult for me to give you a really in depth review of what it can do.
I do have one friend who left Service M8 and went to SIMPRO. I am aware of the cost, although as the distributors obviously don't want to divulge it, then I won't publish it here.
Let's just say it was a significant up front investment, and the ongoing costs were quite a bit higher than any of the other offerings we have seen here.
The up front cost did include full bespoke training on the system, although it was still a lot of money.
He has only being using the software for a few months, although I will endeavour to get more details from him after he has used it for a while and I'll update the review.
Conclusion
Each individual job management software has different features and different benefits.
As such the best way to find out what is the Best Job Management Software For Electricians 2021 is to use the free trials and see if they are a good fit for you personally.
You may prefer the working of one app to another – remember this will be an integral part of your business workings so there is no point using a piece of software that you don't "get on with"
For me, I ended up buying a cellular iPad mini and using this to run Service M8. The features of this software and the overall ease of use were what impressed me the most.
For me, Service M8 is the Best Job Management Software For Electricians in 2021
Sidenote About Zapier
You may have heard Zapier mentioned a bit in these reviews and being wondering what it is?
Zapier is an online service that allows you to connect one piece of software to another to automate data entry without having to know programming.
This may sound like technical mumbo jumbo but this can save literal hours if entering the same data into different online services.
As an example, I use both Service M8, and also a piece of software called Aweber. Aweber is an email campaign software and enables me to send periodical emails to my existing customers to "remind them of my presence"
This is a really powerful way of getting repeat custom. Each and every time I send emails out we end up with replies from customers with small jobs they had forgotten about, or "we were going to call you"
So prior to Zapier, I had to enter the customer details and email into Service M8 to send a quote, but then also manually write those same details into Aweber for my email list.
However now, with zapier set up between Service M8 & Aweber, this automates the process and automatically fills in the Aweber list entry from the Service M8 details.
This means no error in data entry, no extra time spent doing the data entry manually and everything can be automated.
This really allows you to hugely expand the capabilities of any software so you can have the best job management software For Electricians 2021