C2 – Potentially Dangerous
C2 – Potentially Dangerous
If you are completing an EICR (Electrical Installation Condition Report), then this category of fault C2 – Potentially Dangerous for any type of faults which, although not presenting an immediate danger, have the potential to become dangerous should a fault occur.
Any fault which attracts this code will cause the outcome of the report to be UNSATISFACTORY.
What Different Faults Are Considered C2 – Potentially Dangerous ?
The often repeated mantra amongst seasoned inspectors & testers is that a C2 fault will 'kill you later'
This is really reserved for faults which have the underlying potential to cause an injury risk under certain conditions
A brief run down of the sorts of things which could cause immediate danger to users of the installation are:
Incorrectly Sized Earthing Conductors – Any incorrectly sized earthing conductor would be considered a C2 – Potentially Dangerous fault
Incorrectly Sized Bonding Conductors – Similar to above, although bonding is different to an earthing conductor. If the bonding conductor is not of the correct size then this should also be recorded as a C2 issue.
RCD Does Not Trip When Tested – If the installation has an RCD installed, and this does not trip when tested, this is classed as a potentially dangerous fault. This applies also if the RCD will not trip with the test button (as the end user has to be able to complete RCD tests)
Incorrect Breaking Current MCB fitted – If the prospective fault current of the installation exceeds that of the circuit breakers in use, that would be considered a C2 – Potentially Dangerous problem
EFLI Limit Exceeded – If when tested, the EFLI (Zs) limit specified in BS7671 is exceeded by the circuit, this would fall into the C2 – Potentially Dangerous category of fault.
Inspection Schedule Tick Sheet Entries
If you are wondering what particular electrical inspections apply to C2 – Potentially Dangerous faults mainly, then take a look at the list below. This is from an updated 18th edition inspection schedule. This particular schedule is for a domestic EICR, although broadly the same categories fit for any commercial EICR:
1.1 – Service Cable – Possible damaged insulation on the incoming service cable? This would require reporting to the local DNO straight away by calling 105
1.2 – Service Head – Damage to the service head which is not significant enough to expose live parts (call 105 to report as a matter of urgency)
1.4 – Meter Tails – Undersized meter tails for main cut-out fuse, unsheathed basic insulation outside of enclosures (this is a particular problem with Henley blocks)
1.5 – Metering Equipment – Possible damage to electric meter or timeswitch/teleswitch which DOES NOT expose live parts
4.3 – Condition of Enclosure (IP rating) – Top surface of consumer unit not meeting IPx4 requirement
4.5 – Enclosure not Damaged/Deteriorated – Any damage to the consumer unit casing, other than that which exposes live parts (which would be a C1 – Danger Present issue). One here could be corrosion of a ferromagnetic enclosure, obviously something more seen in commercial electrical work. We have come across this in damp cellars with metal consumer unit enclosures
5.3 – Condition of Insulation of Live Parts – If the insulation is damaged in any way, other than that which exposes live parts (which would be a C1 – Danger Present issue).
5.18 – Condition Of Accessories – If any switches/sockets or other accessories have damage, but not as bad as missing pieces which expose live parts (which would be a C1 – Danger Present issue). A good example of this being a C2 – potentially dangerous issue is that where accessories have thermal damage (ie: some form of melting, really however slight!)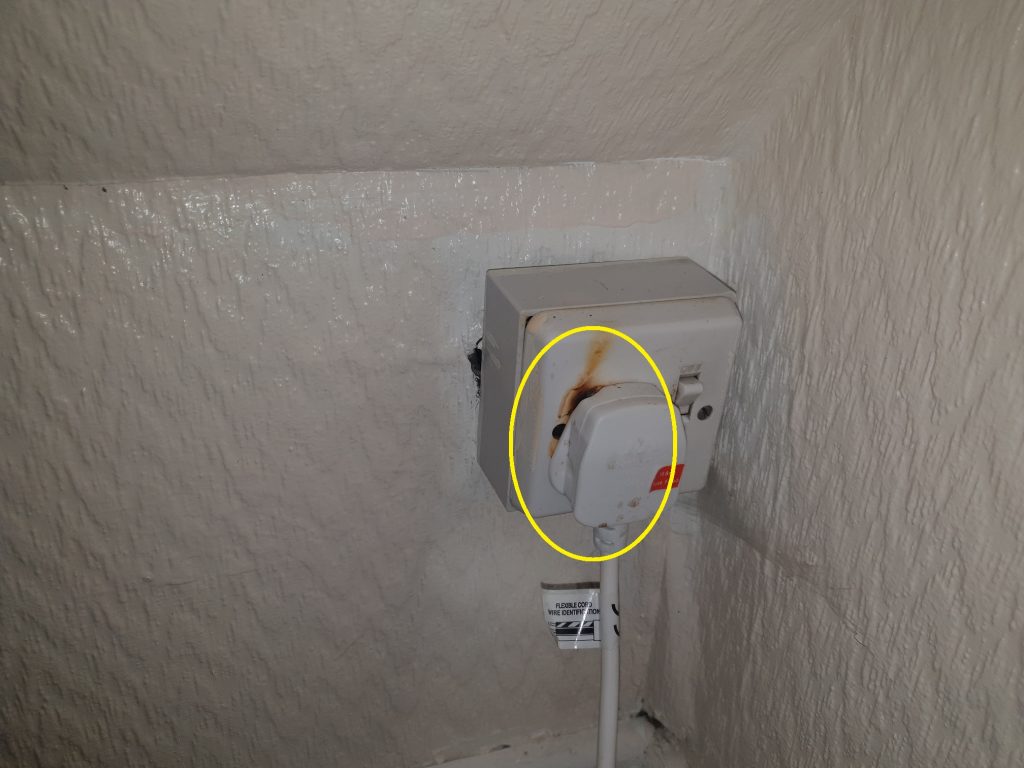 There is much more information on what each exact inspection from the schedule entails by clicking on the links to each page.
Where possible there are pictures and diagrams, together with photos of things which might be encountered on that particular inspection.
Further Reading & Resources
There is further information available throughout the industry on what exactly a C2 – Potentially Dangerous fault is and what it means to both electricians and end users of installations.
As our site is still in its infancy, this section is pretty limited at present. We endeavour to keep this section fresh and up to date (last updated July 2019)
Electrical Safety First : Best Practice Guide 4 EICR – This document contains some good information for free on the best classification codes to assign to a wide variety of issues. We base much of our inspection & testing ethos on the that found within this guide
NAPIT : Codebreakers – This is a printed book from the registration body NAPIT. It includes a very detailed set of tables containing lists of potential faults and classification code they recommend to assign. There has been a lot of debate throughout the electrical industry as of late with regards the somewhat more strict guidelines which the latest updated version of the book seem to offer.