3.3: Provision of Earthing/Bonding Labels at all Appropriate Locations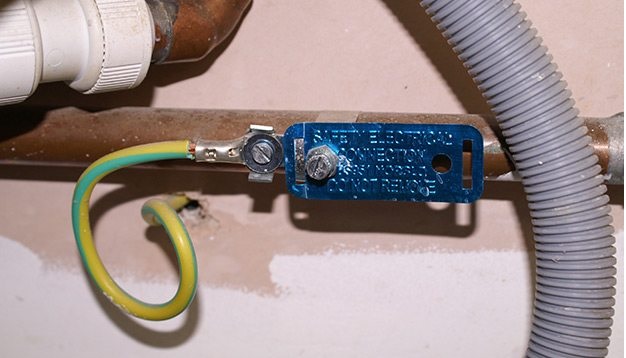 3.3: Provision of Earthing/Bonding Labels at all Appropriate Locations
*** Self Employed Electrician? Learn How To Win Work Here ***
When undertaking 18th edition electrical inspections, whether part of an EIC (Electrical Installation Certificate) or an EICR (Electrical Installation Condition Report), the third section, 3.xx is full of visual inspections that must be completed on the earthing arrangements and protective bonding conductors.
*** It's worth noting, this particular set of inspections are separate to those for Supplementary Bonding which is completed as part of section 6 (special locations)
Inspection 3.3 is a check of the condition of the Provision of Earthing/Bonding Labels at all Appropriate Locations.
For the purposes of this inspection, appropriate locations include:
Main Earth Terminal (MET) outside of an enclosure/switchgear – Any Earthing terminal outside of an enclosure, such as the connection from a TNS cable sheath. Wherever the MET can be accessed without having to open an enclosure, a 'SAFETY ELECTRICAL CONNECTION' label needs to be displayed
Main Protection Bonding Conductor Connections – Any connections for the Main Protective Bonding Conductors, these need a 'SAFETY ELECTRICAL CONNECTION' label installing. Particularly in the case of BS951 clamps to service pipework (gas/water)
Connections between Earthing Conductors and Earthing Electrodes – Any connection to an earthing electrode will require a 'SAFETY ELECTRICAL CONNECTION' label
This inspection is visual only and is literally as simple as locating the 'appropriate locations' (as per the list above), then systematically check that each location has the warning label fitted.
The issue is sometimes the locations of the main protective bonding are not always straightforward to find. It is worth filling in inspection 3.7: Condition & Accessibility to Main Protective Bonding Conductor Connections at the same time as this. The 2 inspections go hand-in-hand. If you are struggling to gain access to the bonding to inspect, make sure to record this problem under section 3.7 on accessibility.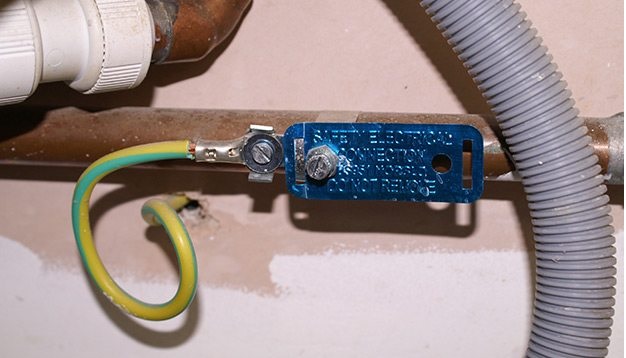 Safety First! – ALWAYS Ensure These Items Before Starting
The specific risks involved in inspecting bonding conductors is inherently low as they carry no voltage (when not under fault conditions) and there is no real dismantling involved in these checks.
If the power to any part of the property is to be left on whilst you complete these inspections, be aware to not remove the bonding clamps and leave them disconnected for any length of time during testing. This can introduce a risk to anyone still using the installation at the time. This sort of situation is rare in domestic EICRs as the power can be isolated for the duration of the test. However, large commercial jobs may need certain circuits leaving live for business continuity purposes.
This website is intended as a study/work aid to assist qualified/working electricians in order to keep current with changes in fields such as inspection & testing. It is also something of a repository for those studying in the field to gain general knowledge. It is in no way intended to be taken as DIY Electrical Advice and should never replace the services of a qualified & insured electrician.
electrical-assistance.co.uk assume no liability for any accident or injury, howsoever caused, whilst attempting electrical works. If you are working with electricity please ensure that you follow all local regulations in force in your particular area.
For further information on this please visit our regulations pages to learn more.
What Am I Checking For When I Inspect This Item?
When checking the Provision of Earthing/Bonding Labels at all Appropriate Locations, you just need to visually check that the following label is present.
This label can be in a couple of forms, a glossy sticker or more often a small metal plate embossed with the letters.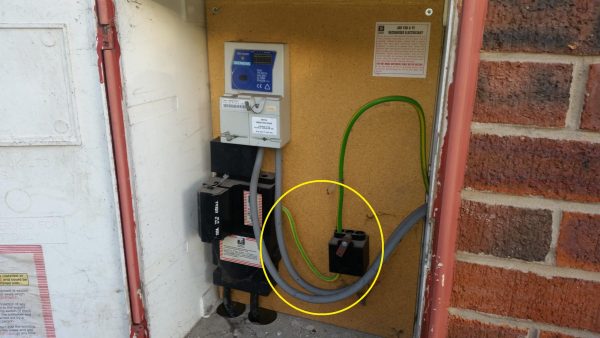 How Do I Record These Inspections?
If you are completing 18th edition inspection & testing, to be honest you are going to need something a little more robust than just a pen and paper!
With the cost of inspection schedule pads, test result pads & main EIC or EICR pads, it can soon add up to more costly than a modern software based approach anyway!
In the instance of EICRs, multiple 'small' problems such as lack of earthing/bonding labels often get overlooked, and as such it is vital to leave some kind of evidence what the problem is.
Adding photos to an EICR also allows you to have a visual record, easily stored within the PDF file of that EICR. As such, you can easily revisit the exact issues and check the photos for yourself or to instruct a 3rd party.
This can be useful when preparing quotes for remedial works and the like. We use & recommend Tysoft Easycert Mobile for the best electronic certification. We are all about time saving for professional electricians here at electrical-assistance.co.uk and as such you need a solid and expandable certification software that you can depend on.
See more information about how we recommend you record these types of inspections here: Best 18th Edition Certification Software
Further Resources & Information on 'Provision of Earthing/Bonding Labels at all Appropriate Locations'
Here are some further resources relating to checking the Provision of Earthing/Bonding Labels at all Appropriate Locations:
Northern Powergrid – Distribution Network Owner for much of the North of England. This includes Yorkshire, Humberside, and upto Newcastle, Sunderland, etc…
105 Phone Number Scheme – A government scheme to enable people to be able to get in touch with their local DNO during power cuts, etc.. without having to remember different numbers. Useful to save to your phone in case you need to report any faults to the DNO
Applicable Regulations:
The particular regulations in BS7671 which relate to this inspection is 514.13.1
This regulation on 'selection & erection' states that: "A durable label to BS951 with the words 'SAFETY ELECTRICAL CONNECTION – DO NOT REMOVE' shall be permanently fixed in a visible position at or near:
1: The point of connection of every earthing conductor to an earth electrode, and:
2: The point of connection of every bonding conductor to an extraneous-conductive-part, and:
3: The Main Earthing Terminal (MET) where separate from the main switchgear