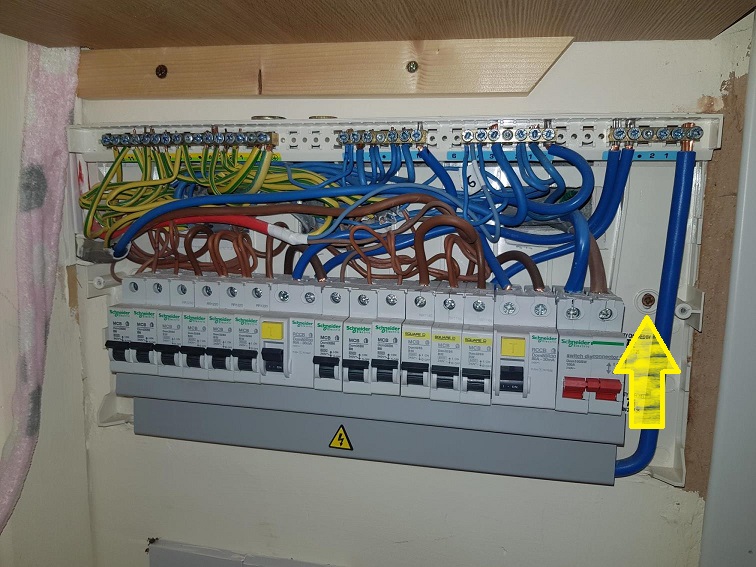 Security Of Fixing Of Consumer Units / Distribution Boards
*** Self Employed Electrician? Learn How To Win Work Here ***
Checking the "Security Of Fixing" is a vitally important inspection completed within the 4th section of the Inspection Schedule.
This particular inspection, whilst often being a very simple 2 minute check, can be a cause of further damage and strain on cables connected to these boards if not rectified.
The check to ensure that any consumer unit or distribution board is securely fixed is to simply grab the enclosure by hand and check that there is no movement in the body if the enclosure.
Although it may seem ultra simple (it really is), you should double check the following points just to be certain.
What am I checking exactly with the security of fixing of consumer unit/distribution board?
Against Brick Walls
The consumer unit/distribution board must be fixed securely to the wall itself. There should be a fixing such that none of the corners is able to be 'pulled away' from the wall.
This would generally be achieved by using at least 4 screws, anchored into the wall with wall plugs (or using plug free concrete screws).
If there is any noticeable movement in the consumer unit when you try by hand, check that the securing screws within the consumer unit are both present and are tightened correctly.
Against Plasterboard / Stud Walls:
Particular attention should be paid to distribution boards / consumer units which are mounted on plasterboard or stud walling.
One often seen problem here is that proper wall plugs/anchors are not used which can lead to the board becoming loose over time
If a distribution board is fixed to a wall like this, it should ideally be screwed to the timber framework (although admittedly this is not always possible).
In the instance where it is not possible to screw to the timber frame of the stud wall, then appropriate plasterboard fixings should be used to ensure the security of fixing.
Within Switchgear Cupboards/Plant Rooms:
Within switchgear cupboards or plant rooms, distribution boards may be secured to metal strutting as opposed to any wall surface.
This again must have a completely secure fixing to whatever is supporting it.
In metallic trunking and strut scenarios, this is often achieved by using bolts to hold the distribution board secure.
If any movement is detected when checked, ensure that any securing screws or bolts are present and are correctly tightened.
In some extreme circumstances, we have seen cases of distribution boards with severe corrosion to the mounting points. Obviously this will have a serious effect on the security of fixing of the board itself.
If this corrosion leads to the board being unsecure then consideration should be given to coding this a C2 – Potentially Dangerous matter.
Security Of Fixing to Wooden Panel
If the consumer unit or distribution board is fastened to a wooden panel, then you need to check that the panel itself is securely fixed to the appropriate surface.
The security of fixing between the consumer unit and the wooden panel should be tight and movement free. The wooden panel should act as an interface material only, the fixing between the consumer unit and the wall (or other appropriate surface) should be secure and tight.
The wooden panel itself should be checked for signs that is has suffered no deterioration. Sometimes, when the consumer unit has been mounted on a wooden panel within the cellar, moisture can cause the wood to deteriorate quite significantly.
We have seen examples of the consumer unit literally hanging off because the wood has perished so badly with the damp. In this case the issue needs recording as an observation and actioning. The only real repair for this is to replace the rotten backboard, this generally being the responsibility of the property owner
Electrical Installation Certificates
Obviously the above write up is geared more towards inspecting someone else's work when completing an EICR (Electrical Installation Condition Report).
However if you have just installed any form of Consumer Unit or Distribution Board as part of some Electrical Installation Works, then you will need to tick this section when completing the Schedule of Inspections.
The tick is to ensure that you have checked this part of your works, and that the installation complies with the relevant regulations.
You cannot use a C2/C3 style code here as any new electrical installation work WILL comply with the regulations. You are simply ticking the box to record that you have completed the inspection and your work complies.
The advice above is consistent with what is required, however if you are installing then it is always wise to triple check what is recommended in the manufacturers literature. It may seem a bit overkill, but the recommendations within here form a part of the manufacturer warranty for any consumer unit/distribution board installation.
Summary & Conclusion
Ultimately this check is one of common sense.
If the consumer unit or the distribution board is not fixed securely, then this should warrant a C3 – Improvement Recommended code should be issued as a minimum.
However if the consumer unit or distribution board is loose to such an extent that it is either hanging, or is otherwise straining on connections, then this would be a C2 – Potentially Dangerous issue.
Unless the board has never been securely fixed, and there are no fixings whatsoever, if the screws just require a quick tighten then this is one of those issues where it is just as easy to tighten the screws and not write this issue up as a 'fault'
Remember that this inspection requires carrying out on each and every fuse board, consumer unit or distribution board in the property. Obviously on small domestic inspections this is likely to be just the single board (although garage/shed sub boards would count as another board!). However larger commercial installations can have many many distribution boards spread throughout the premises and these should each be checked.
If completing a large, multi distribution board installation inspection on a commercial property, there may even be some distribution boards which cannot be accessed. This might be due to their location (above machinery? High up?) or it could indeed be that the circuits cannot be isolated due to commercial reasons (admittedly this doesn't really affect this particular inspection).
If you cannot inspect the security of fixing of any particular distribution board, be sure to include the fact within the section on 'Operational Limitations'. Most large scale commercial EICRs will have a number of limitations, and that is fine. However you must ensure that these are accurately documented so that it is crystal clear exactly what has (& has not) being inspected.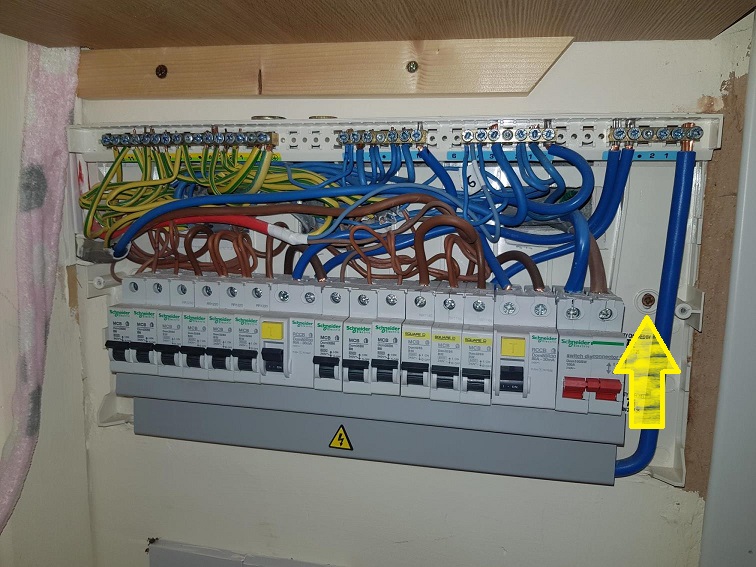 If issues are found with more than one board, and these need recording up, we recommend to simply fill in 'Issues with various boards' on the Inspection Schedule, and follow this up in the Observations & Recommendations section (of EICRs only) with a bit more detail about each separate board/issue.
Applicable Regulations:
The regulation which mostly applies to this particular inspection is 134.1.1
This regulations states: "Good Workmanship by one or more Skilled or instructed persons and proper materials shall be used in the erection of the electrical installation. The installation of electrical equipment shall take account of manufacturers instructions"
It is important to remember that, as well as following manufacturers instructions, good workmanship should prevail at all times.